Hotline
In Xanthi matches this season 4.86 times more goals are scored in the 2nd half than in the 1st one
|
Get full stats >>
Show All >>
Hotline
In Xanthi matches this season 4.86 times more goals are scored in the 2nd half than in the 1st one
|
Get full stats >>
23/01
Aris Thessalon. - Xanthi
|
You may bet on total goals in this match at Pinnacle >>
23/01
Mirandes - Celta Vigo
|
You may bet on outcome in this match at Pinnacle >>
Liverpool didn't concede a goal in 7 last matches in a row in EPL
|
Get full stats >>
23/01
Wolverhampton - Liverpool
|
You may bet on team goals in this match at Bet365 >>
Last Preview
Recently, the Corner-stats.com team has implemented the calculation of the correlation coefficient between different indicators
Date added:

20/01/2020
Handicap on corners for RB Leipzig -1 for the remaining time at odds 1.98 at Pinnacle
Greetings to all! Our preview today will be short, as we do it in live, namely during the break of the match RB Leipzig - Hoffenheim.
So, RB Leipzig is winning against Hoffenheim 1-0 at half-time. We will use the tool "Score-minute" of the football statistics service Corner-stats.com to find out how RB Leipzig plays, winning with a difference of 1 goal on the half-time.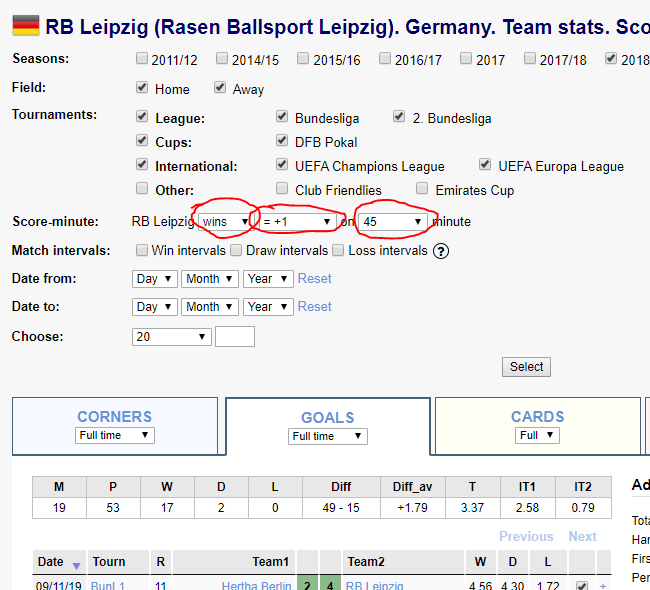 As can be seen from the statistics, there were 19 such matches for this and previous seasons. Of these, RB Leipzig brought 17 matches to victory (in 10 matches, the team increased its advantage to 2 goals or more), and 2 matches ended in a draw.
If we consider the statistics of the corners, then 15 of the 19 matches ended in a victory for RB Leipzig on corners (average difference +2.68). That is, we can conclude that despite the leadership in the score, the team continues to attack and deliver corners.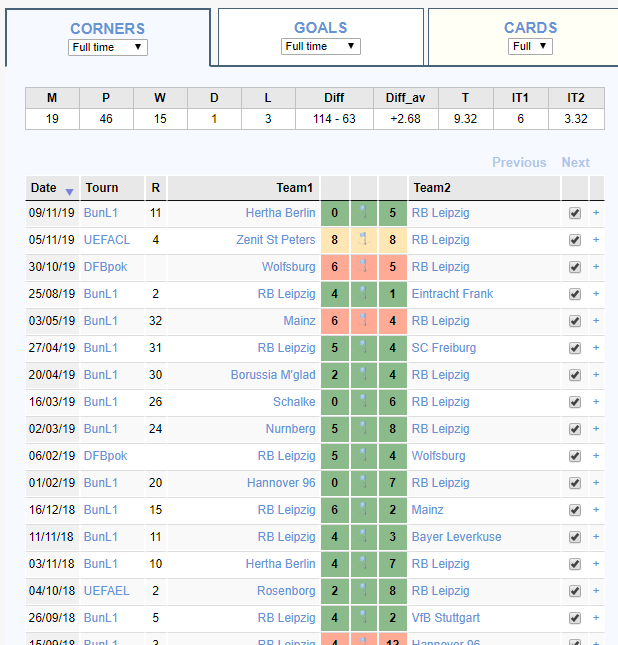 Based on this, the Corner-stats.com team makes a bet on the handicap on corners for RB Leipzig (handicap -1 for the remaining time at odds 1.98 at Pinnacle).