Hotline
In 4 of 4 Werder's matches with the referee M. Petersen, there was total cards under 3.5 (2.5 on avg.)
|
Get full stats >>
Show All >>
Last Preview
Recently, the Corner-stats.com team has implemented the calculation of the correlation coefficient between different indicators
Date added:

20/01/2020
Total corners over in the interval 76-90 (end of the match)
English Premier League and other European leagues kick off this weekend, but the Corner-stats.com team turns its attention to the Japanese J-League, where the 22nd game week will take place.
A few words about our previous forecast: 2 consecutive corners at the 45+3 minute of the 1st half (with two added) led to the fact that, as a result, Shakhtar and Dynamo delivered exactly 1 corner more than we needed. We will consider it bad luck.
So, today we use the tool Intervals of corners. On the J-League (Japan) tournament page, let's select Intervals on Corners tab and check the Show in percent box, then sort the interval 76-90 in descending order: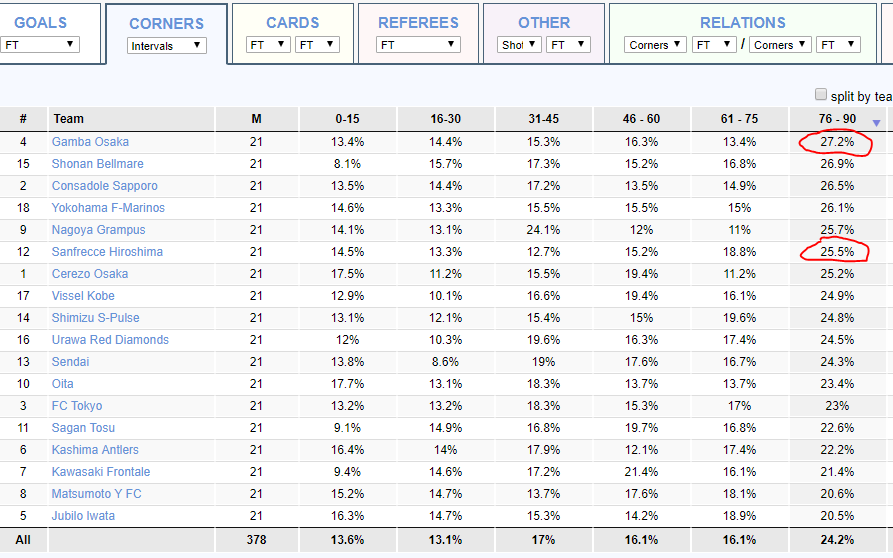 Thus, Gamba Osaka has the largest percentage of corners in the interval of 76-90 minutes (27.2%), rival Gamba Osaka in the 22nd game week of Sanfrecce Hiroshima also has a percentage higher than the average (25.5%).
We will separately analyze the statistics of the corners in H2H and similar matches of the teams (since the tool for statistics of corners in the intervals for a specific match is currently under development, we will use the statistics of the second half):
- in 7 H2H matches of the teams in the seasons 2017-2019, the average total of corners was 5.57;
- in 15 matches of Gamba Osaka in the seasons 2018-2019 with teams similar in strength to Sanfrecce Hiroshima, the average total of corners was 6.07;
- In 15 matches of Sanfrecce Hiroshima in the seasons 2018-2019 with teams similar in strength to Gamba Osaka, the average total of corners was 5.13.
Based on the odds of bookmakers on total corners in the 2nd half (4.75 on equal line), statistics speak in favor of the total over.
Thus, the Corner-stats.com team believes that there will be many corners in the second half in the Gamba Osaka - Sanfrecce Hiroshima match and will bet on total corners over in the interval 76-90 (end of the match). To do this, let's wait for the live and make a bet 15-20 minutes before the final whistle.