Select Tournament
Main
England
Spain
Germany
Italy
France
Ukraine
Russia
Japan
Club International
World
Europe
South-america
Asia
Nc-america
Africa
Oceania
National teams
World (National)
Europe (National)
South America (National)
Asia (National)
NC America (National)
Africa (National)
Oceania (National)
Europe
Austria
Azerbaijan
Belarus
Belgium
Bulgaria
Croatia
Cyprus
Czech-republic
Denmark
Finland
Greece
Hungary
Iceland
Ireland-republic
Israel
Kazakhstan
Lithuania
Netherlands
Northern-ireland
Norway
Poland
Portugal
Romania
Scotland
Serbia
Slovakia
Sweden
Switzerland
Turkey
Wales
South America
Argentina
Bolivia
Brazil
Chile
Colombia
Ecuador
Paraguay
Peru
Uruguay
Venezuela
Asia
Australia
China-pr
Hong-kong
India
Indonesia
Korea-republic
Qatar
Saudi-arabia
United-arab-emirates
North Central American and Caribbean
Costa-rica
Mexico
United-states
Africa
Algeria
Cameroon
Egypt
Morocco
Nigeria
South-africa
Oceania
New-zealand
Last Preview
Today we will analyze the return match of the Champions League Mancity - Tottenham. We will have an interesting mega match, bec
Date added:

17/04/2019
Asian total corners over 1.5 on 76-90 minutes interval at odds 1.80
Today, the Corner-stats.com team decided to talk about the usage of interval tables, namely corners intervals.
Let's look at tomorrow's match of Nations League between Iceland and Switzerland, which is expected to be very entertaining. Let's take to the attention the last tournaments of the teams, World Cup 2018 and qualification for World Cup 2018, and we will study how corners are distributed on minutes for the teams. To do this, go to the tournament page and select Intervals on the Corners tab: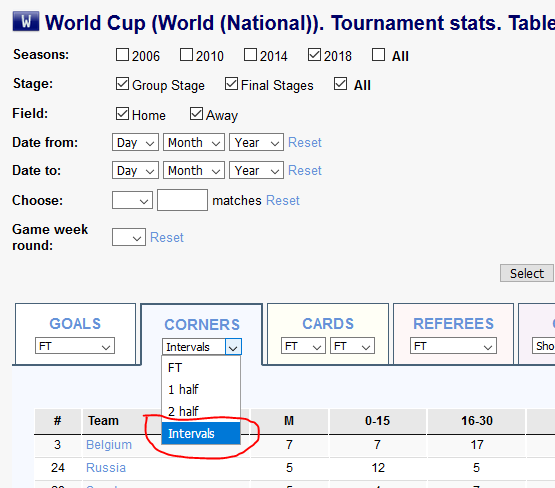 We will pay special attention to the interval from 76 to 90 minute. If you sort the data column down, it turns out that Iceland and Switzerland have the highest percentage of corners in the interval of 76-90 minutes among all the participants of World Cup 2018 qualification:


In the 12 matches of Switzerland in World Cup 2018 qualification 28 corners were taken in the interval of 76-90 minutes (averaging 2.33 corners per match), while in Iceland's matches - 23 corners in 10 matches (an average of 2.3).

At World Cup 2018 these numbers are - 13 corners in 4 matches for Switzerland (an average of 3.25) and 6 corners in 3 matches for Iceland (2.0 average).

Based on this statistic, it will be logical to bet on a total corners over 1.5 on the 76th minute of the upcoming match, which can be done in live.