Select Tournament
Main
England
Spain
Germany
Italy
France
Ukraine
Russia
Japan
Club International
World
Europe
South-america
Asia
Nc-america
Africa
Oceania
National teams
World (National)
Europe (National)
South America (National)
Asia (National)
NC America (National)
Africa (National)
Oceania (National)
Europe
Austria
Azerbaijan
Belarus
Belgium
Bulgaria
Croatia
Cyprus
Czech-republic
Denmark
Finland
Greece
Hungary
Iceland
Ireland-republic
Israel
Kazakhstan
Lithuania
Netherlands
Northern-ireland
Norway
Poland
Portugal
Romania
Scotland
Serbia
Slovakia
Slovenia
Sweden
Switzerland
Turkey
Wales
South America
Argentina
Bolivia
Brazil
Chile
Colombia
Ecuador
Paraguay
Peru
Uruguay
Venezuela
Asia
Australia
China-pr
Hong-kong
India
Indonesia
Korea-republic
Qatar
Saudi-arabia
United-arab-emirates
North Central American and Caribbean
Costa-rica
Mexico
United-states
Africa
Algeria
Cameroon
Egypt
Morocco
Nigeria
South-africa
Oceania
New-zealand
Last Preview
Greetings to all football fans! Despite a break in the national championships, June 2019 gives us a lot of good football in the
Date added:

21/06/2019
Combobet of 10 matches (Red card - no, in every match) at odds 4.34 at Bet365
Corner-stats.com team wishes everyone a merry Christmas and offers to pay attention to English Premier League, where, as usual, the next game week takes place on Boxing Day.
We decided to analyze how the teams of Premier League played on Boxing Day in previous seasons, namely, turned our attention to the number of sent-offs in matches. In our opinion, the teams should play without rudeness, it's still Christmas!
On the tournament page, we use the filter by date to select the desired matches, and go to the Cards tab.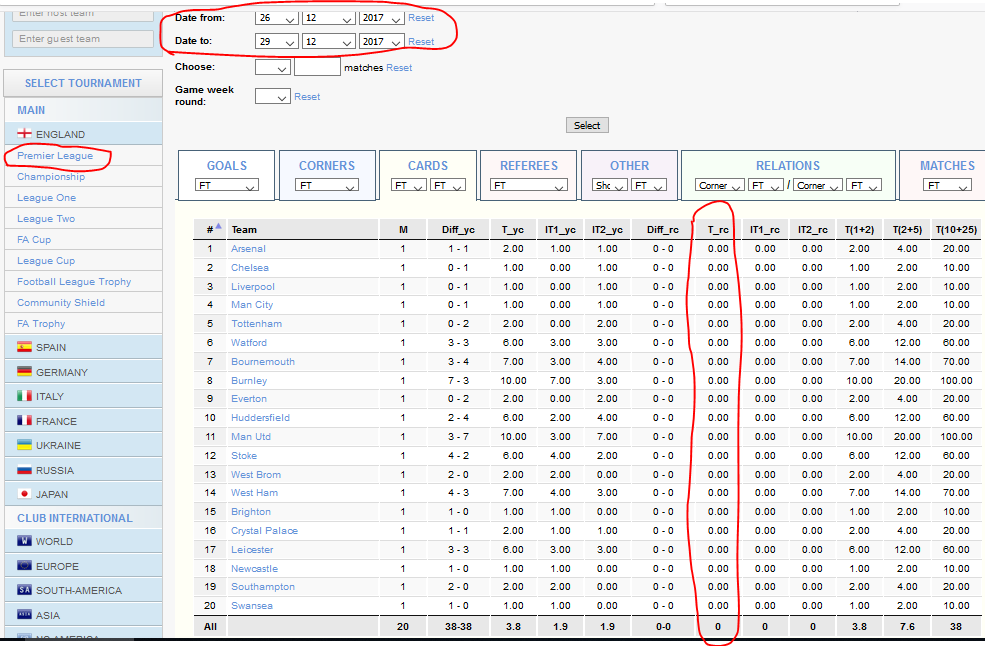 As you can see from the screenshot, there were no red cards in the game week on Boxing Day last season. We will do the same for 3 more previous seasons, as a result we will get the following table:
season 2017/18 - 0 red card
season 2016/17 - 1 red card
season 2015/16 - 0 red card
season 2014/15 - 1 red card
So, 2 times in the game week there was not a single red card and 2 times it was 1 sent-off.
We could not find a bet on the bookmakers that there will be no sent-off in the game week, but this can be easily circumvented by placing an combobet of 10 events that a sent-off will not take place in every match of the game week. Thus, by collecting this combobet in Bet365, we get the odds of 4.34, which is not bad at all:
The team Corner-stats.com recommends betting a combobet of 10 matches (Red card - no, in every match) at odds 4.34 at Bet365.