Hotline
In 14 of 20 last H2H matches, there was total goals over 2.5 (3.35 on avg.)
|
Get full stats >>
Show All >>
Hotline
In 14 of 20 last H2H matches, there was total goals over 2.5 (3.35 on avg.)
|
Get full stats >>
29/03
TUNDRA (TES) - SHEMYAKIN ONZE (PSG)
|
You may bet on total goals in this match at Bet365 >>
Last Preview
Recently, the Corner-stats.com team has implemented the calculation of the correlation coefficient between different indicators
Date added:

20/01/2020
Asian handicap 0 on corners on Rizespor at the odds 1.86 (Pinnacle)
Welcome football fans and football statistics fans.
Recently, the Corner-stats.com team has implemented the calculation of the correlation coefficient between different indicators of teams within the tournament (read more here). Today we will demonstrate how correlation can be used in the analysis of football statistics and we will do this on the example of the match Rizespor - Genclerbirligi in Turkish Super League.
So, today we will analyze the corners in the selected match. First, we note that one of the main difficulties in analyzing corners in football is that teams do not have the goal of intentionally creating corners, their task is to create dangerous moments in order to score a goal. The Corner-stats.com team believes that approximately 80% of the corners are "side effects" as a result of blocked opponent's crosses or shots, and somewhere around 20% of the corners are the result of the rest (unsuccessful dribbles, defenders errors in the pass and other).
Corner-stats.com team believes that playing at home stadium with the Super League rookie, Rizespor is just obliged to play the first number (possess the ball, make crosses in the penalty box, make shots). And now we'll use the correlation tables of the Turkish Super League teams to study how ball possession, shots and crosses of Rizespor affect its corners.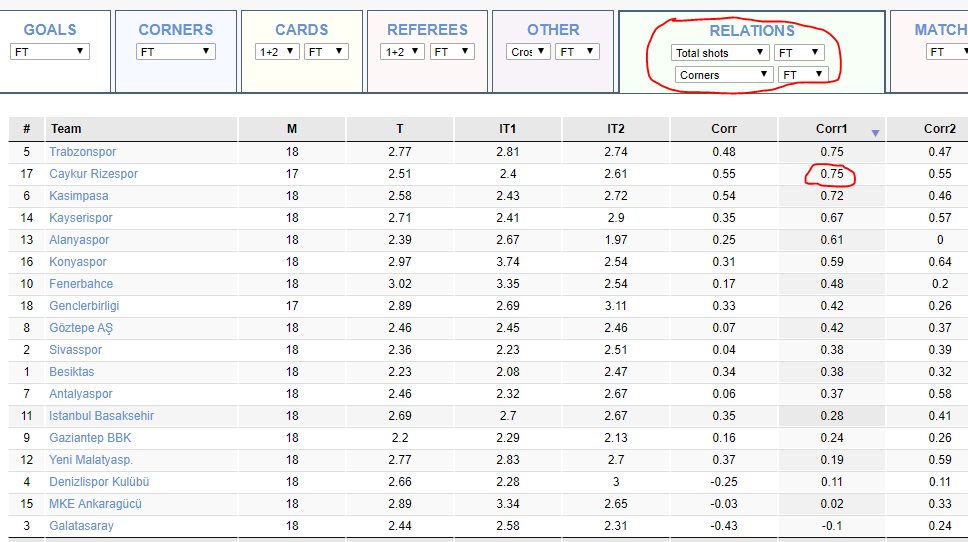 As a result, we obtain these correlation coefficients for the team Rizespor:
possession/corners +0.58 (2nd place)
all shots/corners +0.75 (1st place)
crosses/corners +0.67 (2nd place)
That is, for all 3 pairs of indicators, we have a high positive correlation, which means if Rizespor has a lot of possession of the ball (makes shots, takes crosses into the box), then the team will have a lot of corners, if possession, shots, crosses in a match are low, then Risespor takes a few corners as well.
It would seem that these conclusions can be applied to any team from any tournament, but no - if we look at the correlation tables, we will see many teams that have about zero or even negative correlation between possession (shots, crosses) and corners.
Thus, the Corner-stats.com team believes that Risespor will play the first number in the match against Genclerbirligi, which should lead to a large number of team corners and bets on Asian handicap 0 on corners on Rizespor at the odds 1.86 (Pinnacle).